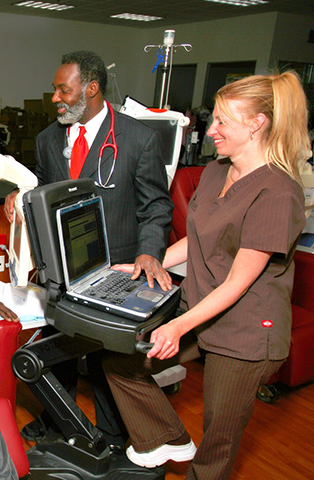 Our Mission Statement is to treat patients as we would like to be treated if we had kidney failure and were on dialysis.
Desert Nephrology of Nevada Medical Director, Dr. Cyril Ovuworie (Dr. Over-Worry), graduated from the University of Lagos School of Medicine, Nigeria in 1991 and completed his Internal Medicine Residency at Columbia University College of Physicians and Surgeons in New York, 1997. In 1999, he completed his Renal Fellowship at John Hopkins University School of Medicine in Baltimore, Maryland. He then moved on to do a Transplant Nephrology Fellowship at Harvard Medical School in Boston, Massachusetts which he completed in 2000. He subsequently served as Clinical Instructor at University of California Los Angeles School of Medicine. Dr Ovuworie participated in various research projects especially in the area of Endothelial Function, Homocysteine and Heart Disease. He and his colleagues have published many of their findings. He is Board certified in both Internal Medicine and Nephrology. Dr. Ovuworie is now in private practice in the Las Vegas Area.
Dr. Cyril Ovuworie of Desert Nephrology of Nevada is a Board certified Nephrologist skilled in diagnosing and treating kidney problems. He can treat problems such as appearance of protein or blood in the urine, high blood pressure caused by a kidney problem, stones, infections, and the most serious of kidney disorders, complete renal dysfunction. In cases of complete dysfunction, he may prescribe peritoneal dialysis or hemodialysis. These procedures help to eliminate dangerous toxins from the body. His ultimate goal, in cases of renal failure, is to transplant a healthy kidney so that the patient may lead a normal, healthy life. Dr. Ovuworie and his staff will counsel you and recommend the best therapy for your dysfunction.
Kidney disorders upset a person's normal lifestyle and can keep one from enjoying many activities. If you or a loved one suffers from a kidney disorder, contact the doctor at Desert Nephrology of Nevada located in Las Vegas at 900 S. Main Street. For a consultation phone (702) 369-3699.