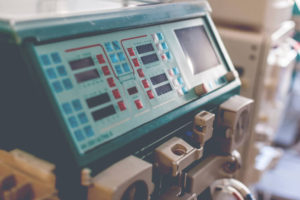 The Kidneys are blood-cleansing organs removing waste and excess fluid from the body in form of urine. The function includes production of hormones, regulation of blood pressure and maintaining a balance of fluid and electrolytes. Healthy people have two kidneys, each about the size of a fist, located behind the abdominal cavity, on either side of the spine at the lowest level of the rib cage. Each kidney contains about a million Nephrons, the filtering unit of the kidney.
Nephrologist: A Physician who specializes in diseases of the kidney.
Urologist: A surgeon who specializes in all aspects of the genitourinary system including the kidney.
Chronic Kidney Disease (CKD) is a progressive loss in kidney function over a period of months or years. Diabetes Mellitus and Hypertension accounts a majority of cases. Other causes include Cystic kidney diseases, Glomerulonephritis, Drugs, Infections, Inherited and Congenital kidney diseases.
Approximately 30 million Americans have CKD and millions of others are at increased risk of developing CKD. CKD screening includes blood pressure measurement, blood test for serum creatinine and checking urine for loss of protein or red blood cells. Glomerular Filtration Rate (GFR) is the best estimate of kidney function.
Serum Creatinine: Creatinine is a waste product in blood derived from muscle. Higher levels of creatinine indicate a low GFR and as a result a decreased capability of the kidney to excrete waste products.
Glomerular Filtration Rate (GFR): Is a measure of how much kidney function you have. It describes the flow rate of filtered fluid through the kidney.
GFR Calculator Link: GFR Calculator
Creatinine Clearance rate (CrCl) is the volume of blood plasma that is cleared of creatinine per unit time and is a useful measure of approximating the GFR. In adults, estimated Creatinine clearance eCrCl can be calculated using the Cockroft-Gault equation.
Creatinine Clearance Calculator Link: Creatinine Clearance calculator
Diagnosis of CKD signs and symptoms of CKD include fatigue, malaise, facial and ankle swelling, puffiness around the eyes, poor appetite, trouble sleeping, dry itchy skin, high blood pressure, more frequent urination.
Simple blood tests serum creatinine and Blood Urea Nitrogen (BUN) indicate a kidney problem if elevated. Evidence of kidney damage also include proteinuria (protein in the urine) and hematuria (blood in the urine). Imaging studies such as kidney ultrasound and CT scan are also helpful in diagnosis of CKD.
In some cases it may be necessary to perform a kidney biopsy to determine the specific cause of the kidney problem and help guide treatment. A kidney biopsy involves taking small pieces of the kidney and examining them under a microscope.
Stages of CKD New professional guidelines classify the severity of CKD in five (5) stages, with stage 1 being the mildest usually causing few and stage 5 being the most severe requiring dialysis or kidney transplantation.
Normal kidney function: GFR above 90ml/min/1.73m2 and no proteinuria or hematuria
CKD stage 1: GFR above 90ml/min/1.73m2 with evidence of kidney damage
CKD stage 2: (Mild) GFR 60-89ml/min/1.73m2
CKD stage 3: (Moderate) GFR 30-59ml/min/1.73m2
CKD stage 4: (Severe) GFR 15-29ml/min/1.73m2
CKD stage 5: GFR less than 15ml/min/1.73m2. Kidney usually require dialysis or kidney transplantation
Prevention of CKD: Advanced CKD can be a serious medical condition. To maintain kidney health you should:
Drink plenty of fluids
Exercise regularly
Avoid smoking
Maintain proper weight
Maintain proper diet
Check for high blood glucose and blood pressure
Check your cholesterol level
Consult with your primary care giver to determine if you have CKD.
Early referral to a Nephrologist if you have any evidence of CKD.
Heart Disease is the major cause of death for all people with CKD.
Resources
Red Moon Dialysis:
www.Redmoondialysis.com
National Kidney Foundation:
www.kidney.org
American Heart Association:
www.heart.org
American Nephrology Nurses' Association:
www.annanurse.org
The American Society of Pediatric Nephrology:
www.aspneph.com
The American Society of Transplantation:
www.a-s-t.org
International Society of Hypertension:
www.ish-world.com
International Society of Nephrology:
www.theisn.org
Polycystic Kidney Disease Foundation:
www.pkdcure.org